Avian Ambassadors
Flights of Education
---
Avian Ambassadors is fortunate to have its very own "Artist in Residence", Nance McManus.
Click on the thumbnail below to view a larger photo of this pastel, "Fishing Eagle".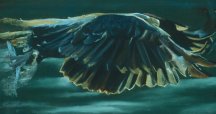 Visit Amsterdam Whitney Gallery in Chelsea NYC, Dartmouth Street Gallery in Albuquerque NM, Cedar Street Galleries in Honolulu HI, or "es Posible" in N. Scottsdale AZ to view and purchase Nance's work.
---
Avian Ambassador's artist-in-residence, Nance McManus, CPS, offers classes through UNM's Continuing Education. PASTELS ARE PAINT......NOT CHALK is a 2 day course in the materials of pastel painting with a bit of art history thrown in.

Phone UNM if you are interested: 505-277-2527.

Photo and artwork is the copyright of Nance McManus.
---
This site and all content is the copyright (2003 - 2015) of Sid Price, unless otherwise explicitly stated.